These are some of the possible coat of arms, slash sheilds

I've come up with for House Karey. They're a little rough

but they are to give you an idea, or idea's that you can give to me

J

Let me know what you think. And what colours you ultimately decide

on, so I can make buttons and banners and such

J

-Kelorna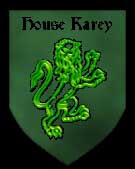 Here is the second sheild. Its kind of hard to get the lighting effects just right.